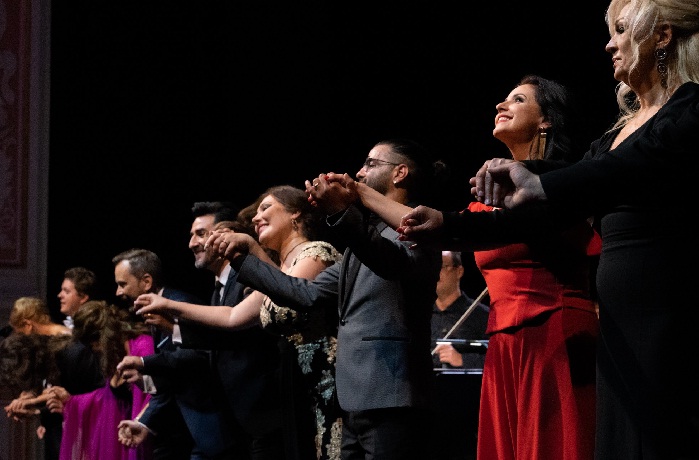 Foto: Opera_Wrocławska
Wrocław Opera: Opening Gala.  
01.10.2020
Mariusz Kwiecień, the new artistic director of the Wrocław Opera, invited us to the world of opera, which is his artistic world, emphasized the uniqueness of this place by inviting artists to the Wrocław opera boards, with whom he created roles on the biggest opera stages in the world.
During the inaugural Galas, which start the long awaited season, opera lovers who occupy seats in the spectacular Wrocław scene received a dose of outstanding operatic art, which they will be able to enjoy during the artistic season.  
The Wrocław Opera Orchestra, which occupied the entire stage was an excellent partner for the development of young talents and for the release of tears of emotion from the stars appearing on the most important stages of the world.  
"Bacchanale" played with an oriental note under the baton of Bassem Akiki seduced opera guests providing a preview of the creations of Małgorzata Walewska, Piotr Buszewski, Szymon Mechliński, Monika Ledzion-Porczyńska, Joanna Zawartko, Arnold Rutkowski, Remigiusz  Łukomski as well as Ekaterina Siurina, Lianna Haroutounian, Charles Castronovo, which turned out to be delicious delicacies appealing to the Wrocław audience.  
The inaugural gala was a ceremonial banquet, during which the exquisite artists gossiped with us, told fortunes, drank a love potion, seduced, experienced love troubles and showed care for a child. Meanwhile, we participated in the Mask Ball and absolutely did not count down the time until its end. All of this thanks to an expert selection of repertoire as well as invited guests.
The entirety was overwatched by Bassem Akiki, the new Music Director of the Wrocław Opera, intoducing the orchestra, soloists and audience in the Barcarolle rythym into a new artistic season.
Iwona Karpińska/ Wrocław