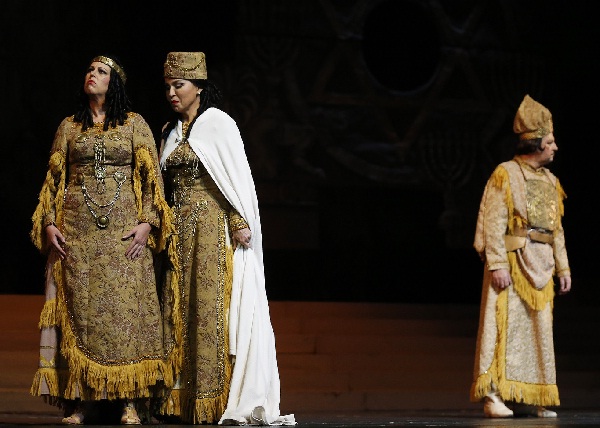 Copyright: Joanna Miklaszewska
Poland. Grand Theatre in Łódź: Singing dreams.  "Nabucco."
13/10/2019
The fight for influence, power and life.   I am very pleased that the Grand Theatre in Łódź has had an influence on my choice and I spent Sunday evening among the heroes of "Nabucco" by Giuseppe Verdi in this theatre.
The first fanfares of Verdi's overture announced a new conductor on this day who has been present in theatres in Łódź for over 30 years now.  The next sounds showed the power of the orchestra and the joy of creating together.  The next fanfares were for the audience who made the right choice and was there together with the artists.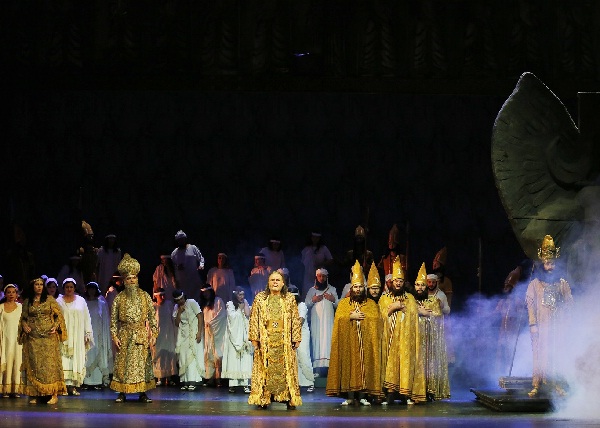 Copyright: Joanna Miklaszewska
Beauty, lightness, dynamism and wise message the music carried have revealed all the advantages of the performance in Łódź the moment the curtain was raised.
We could feel the sanctity of this place, the importance of events and experiences, the naturalness of the prayers and songs combined with the naturalness of costumes and the simplicity and good selection of scenery.  The artists have created a true sanctuary of art.
The spontaneity of the orchestra translated into the credibility of the performance and triggered the right emotions between the characters which effectively introduced the proper life on stage.  
The stage was warm and the music flowed like the waters of Jordan.  
It was during this evening when the artists made me want to travel to Jordan thanks to their creations.
In pursuit of musical beauty – this is the title of the concert which is going to take place soon in one of the concert halls, that is also how my trip to Łódź looked like that day.
"I have used all my charms to stop the bus that was leaving without me, but luckily I managed to got on and here I am. It's wonderful." I could have written this during the the first break in the performance.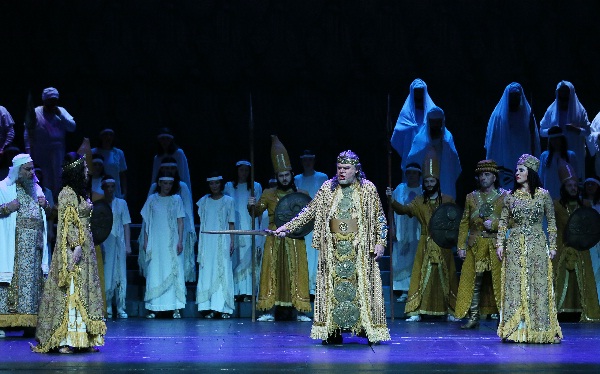 Copyright: Joanna Miklaszewska
Here are the heroes who made us feel like we were in the Mediterranean areas thanks to their very credible presentation of the story, leaving us in its musical embrace for a long time afterwards:
Nabucco – Zenon Kowalski
Ismaele – Krzysztof Marciniak
Zaccaria – Robert Ulatowski  
Two very well-chosen sisters with strong characters:
Abigaille – Monika Cichocka
Fenena – Bernadetta Grabias
And
Arcykapłan – Andrzej Staniewski
Abdallo – Krzysztof Dyttus  
Anna – Aleksandra Wiwała
Together with the choir and the orchestra of the Grand Theatre in Łódź.
Musical beauty.
Beauty.
"Nabucco" in Łódź.  Under the baton of Bassem Akiki.

Copyright: Joanna Miklaszewska
Iwona Karpińska
Wroclaw