Lukazs Wilczura und Bassem Akiki. Foto: The Lower Silesia Philharmonic
Poland. The Lower Silesia Philharmonic: Meetings in a Great Style.
On a warm June evening, the Lower Silesia Philharmonic in Jelenia Góra invited us to its extraordinary concert hall for music in a great style, for the music of two prominent composers. 
We had the incredible pleasure to hear:
The Concerto in D Major for Oboe and Small Orchestra by Richard Strauss and the Symphony No. 3 by Sergei Prokofiev.
Even before the beginning of the concert, we heard about an event in Richard Strauss's life, which bore the mark of a struggle for survival, and one could say that it later became the inspiration for the creation of the concert.  The meeting was certainly extremely difficult for the composer, although extremely valuable, just as valuable as was the invitation of Bassem Akiki, a conductor and oboist, to perform this concert. Richard Strauss occupies a very important position in Akiki's life, and he perfectly understands his music, its depth and meaning.
The composer expressed his appreciation of the Allied soldier-oboist through the complexities of the oboe part, which was performed with virtuosity by Łukasz Wilczura
, bravo! And the joy of this meeting resounded throughout the whole work.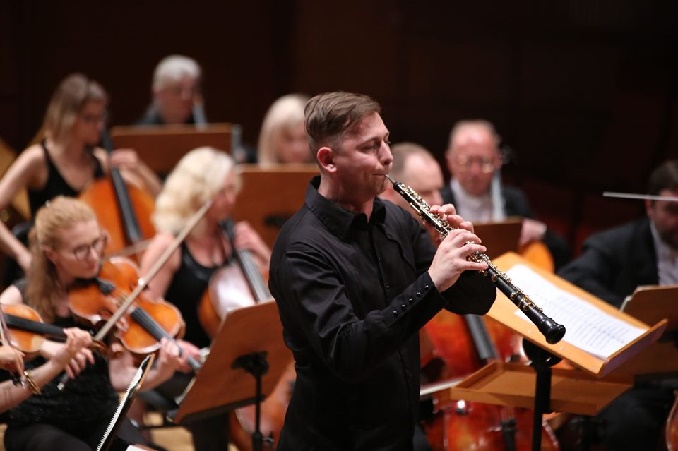 Foto: The Lower Silesia Philharmonic
"I am the composer of "Der Rosenkavalier"" – during the ceremony of presentation of the silver rose at the 77th Vienna Philharmonic Ball, in which I also took part, the great importance of this moment was felt, and during the concert, thanks to the Jelenia Góra Symphony Orchestra and the Wilczura/Akiki duo, we could truly feel the meaning of the composer's words.
The second piece played on this glorious day by the Symphony Orchestra of the Lower Silesia Philharmonic also concerned a meeting, real or imaginary. Was it perhaps a figment of the sick imagination or the result of Renata's burning desire to be in a relationship with a man?
"Renata wanted more and more from the Angel…" We did not have to want more because the orchestra led by Bassem Akiki allowed us to immerse ourselves completely in the imagination, desires and experiences of the heroine, which made me very happy because when I listened to "The Fiery Angel" at the Teatr Wielki – Polish National Opera in Warsaw, such experience was not possible due to the distance from the orchestra.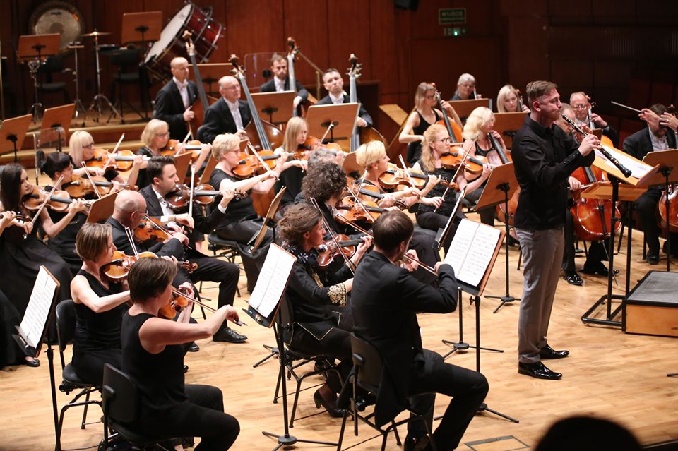 Foto: The Lower Silesia Philharmonic
The audience was filled to the brim with emotions of enthusiasts of Prokofiev's music, Łukasz Wilczura's performance, as well as those who came there because of the talent of Bassem Akiki, who reveals to us the beauty, talent and depth of Richard Strauss's work.
Iwona Karpińska/ Wrocław