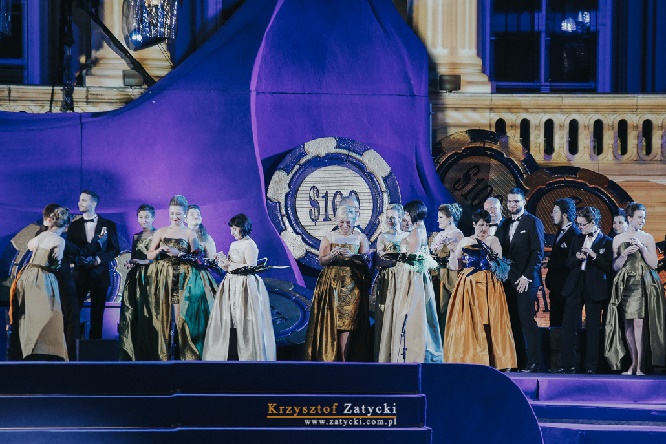 Foto: Krzysztof Zatycki 
Poland. Wrocław Opera.  The artificial world of Violetta Valery. Traviata.
PREMIERE 28.06.2019 r.
During the last weekend, a social gathering of opera lovers took place in a very good atmosphere, organised by the Wrocław Opera and the main character of the opera "Traviata" by Giuseppe Verdi performed on a summer stage built by the opera house.  It was facilitated by wonderful weather, great organisation of the whole event and the mood of the guests.
We were all curious about the new realisation of this flagship title in many of the world's opera theaters designed in the form of an open-air spectacle.
In "Traviata", directed by Grażyna Szapołowska, the theme of fun is the dominant feature. This motive was specially emphasised, therefore the motive of love and suffering, both in music and in the expressed emotions and experiences of the protagonists, was hidden in the background.   It was important to show nonchalance by means of artificial politeness towards one another, shocking with wealth, social status, clothing (Ewa Kochańska).  This facade was supposed to cover true intentions, truly felt emotions. Even causing suffering to Violetta by Alfred's father also took place through play, by flirting.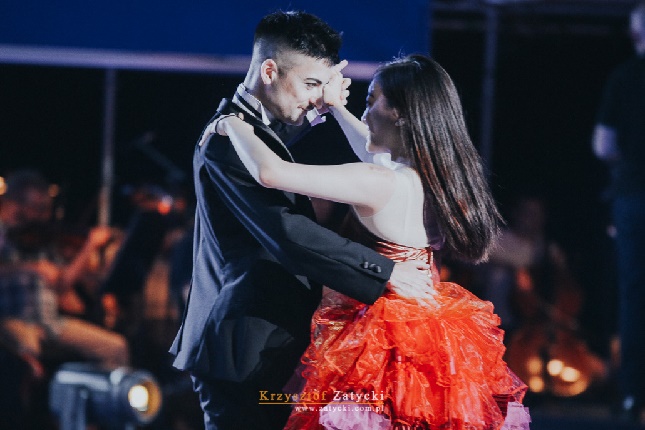 Foto: Krzysztof Zatycki 
A background to fascination – real or not, the pursuit to achieve your own goals, cunning actions and the explosion of love between the pair of main characters (which you could feel on the premiere evening only in the duet "Parigi a cara") was a casino in the strong dominant color of Royal Blue giving a certain visual artificiality.  The director emphasised the importance and the foregrounding of the events between the pair of main characters by keeping the remaining participants of the ball, feast in the shot, which resulted in lack of life on the stage, intensive observation, watching what happens between people showing mutual interest. 
On the premier evening the audience brought their own emotions, they were able to extract the truth from this performance, rewarding artists who were able to show the true beauty of Giuseppe Verdi's music.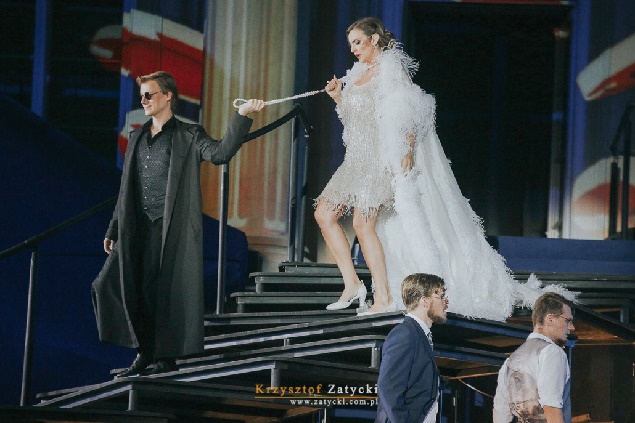 Łukasz Rosiak, Renata Vari. Foto: Krzysztof Zatycki 
Renata Vari and David Baños  in their emotional performance of "Parigi a cara" brought the audience to affectionate tears and perhaps to reflection that the feeling gives a sense of real life and true happiness.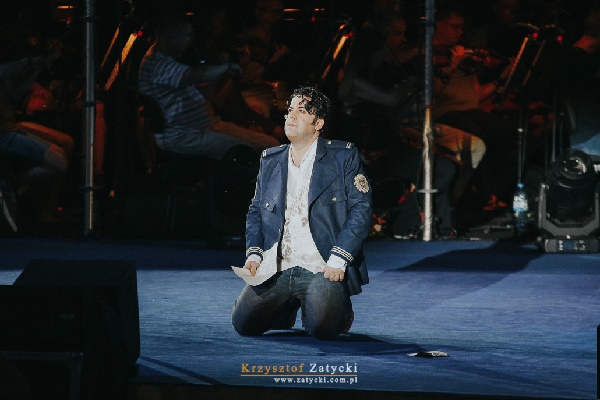 David Banos. Foto: Krzysztof Zatycki 
The premiere cast:
Violetta Valery – Renata Vari,
Alfredo Germont – David Baños,
Giorgio Germont – Adam Kruszewski,     
Flora Bervoix – Jadwiga Postrożna,
Annina – Dorota Dutkowska,
Gastone – Aleksander Zuchowicz ,
Barone Douphal – Łukasz Rosiak,
Marchese d'Obigny – Jakub Michalski,
Dottore Grenvil – Tomasz Rudnicki,
Giuseppe – Edward Kulczyk,
 Servant at Flora – Paweł Walankiewicz ,  
Messenger  – Kacper Grzelak,
Ballet, Choir, Wrocław Opera Orchestra, Academic Choir of the Wrocław University of Technology, "Ars Cantandi" Choir of the Wrocław University of Economics.
The entire performance was consistently led by: conductor Simone Valeri.
Iwona Karpińska
Wrocław

Adam Kruszewski. Foto: Krzysztof Zatycki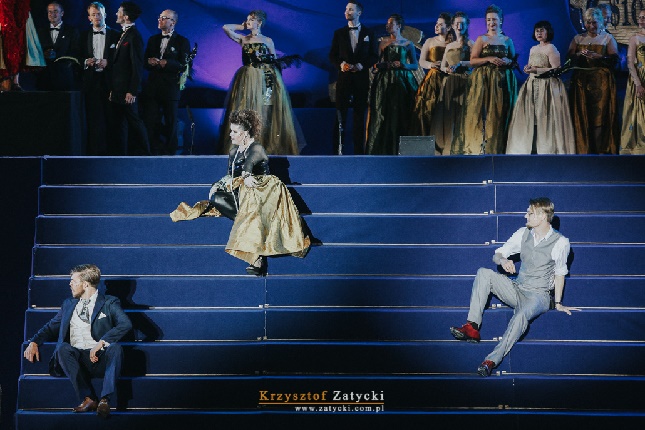 Jakub Michalski, Jadwiga Postrożna, Tomasz Rudnicki. Foto: Krzysztof Zatycki