Wrocław Opera, Poland, Feel the theater in The Tales of Hoffmann. 16.01.21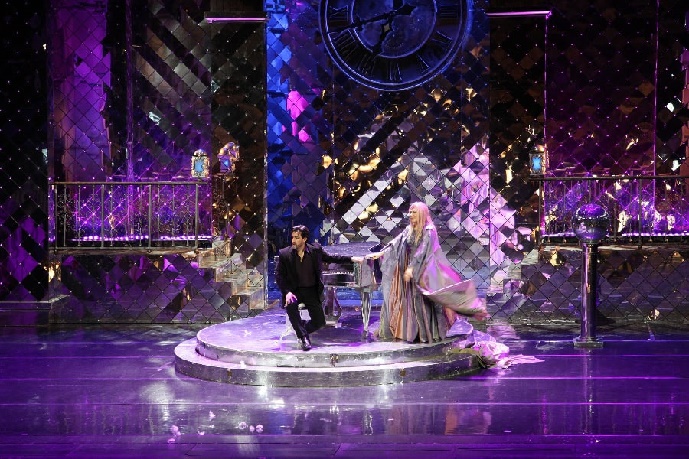 Charles Castronovo, Ekaterina Siurina. Foto: J.K Żurek/Opera Wrocławska
By purchasing access to streaming of "The Tales of Hoffmann" staged on Saturday at the Wrocław Opera, we received the key to the proper loge.
The well-known performance, which we watched many times there in the theater, was expected by us because of the character of Hoffmann, who was supposed to peek from the greatest operas in the world to our winery to the sounds of Don Giovani opera from a distance.
Charles Castronovo captured the story of his visions of love, femininity, making him the most important man in love in the world. His character of Hoffmann, surrounded by the choir of the Wrocław Opera and the artists of the Wrocław opera stage, attracted attention from the first to the last moment, arousing admiration with his professionalism.
He greatly warmed up the staged performance, enriched it with colour and a hint of mystery, and the extraordinary sense of the stage. The performance in which he took part for the first time, gave him a new value, which was noticed by the artists of the Wrocław Opera.
Such a tenor needs to be delighted to become a worthy stage partner, knowing the talents of artists with whom I could spend many hours behind the scenes in the production of performances, I was sure about a very good reception of the guest artist who shared his wife's talent with us.
Ekaterina Siurina, playing the role of Antonia, delighted me during the inauguration gala and was undoubtedly an ornament, a diamond of the opera's second act. The scenes of Charles Castronovo and Ekaterina Siurina singing together are the top shelf, when plunging into the singing they draw us into their world, in which we want to stay as long as possible.
"God! What consolation you give to ignite my soul "- we felt the theater, its atmosphere flowed with the artists in a gondola filled with the sounds of the fascinating opera by Jackues Offenbach, a barcarolle played with romanticism, a proper passion by the Wrocław Opera orchestra under the baton of Bassem Akiki's evening gondolier.
The choir artists singing from the balconies added space and filled the audience that we hope is waiting for us,
Iwona Karpińska
Wrocław