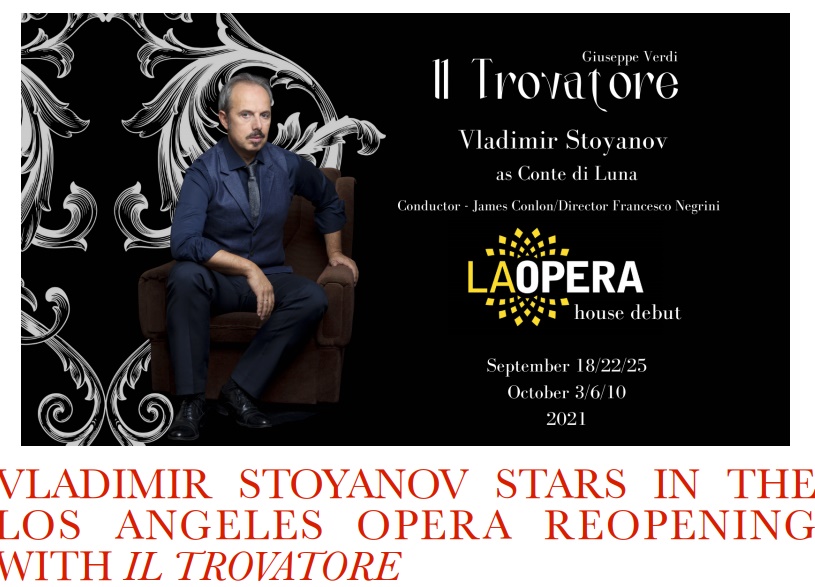 Anlässlich dieser Produktion prach unser Korrespondent Frank Herbert in LA mit Vladimir Stoyanov:
Bulgaria is a land of great voices that have written the history of opera: tell us about your musical development and your vocal role models.
From an early age I liked music and especially singing. My mother had noticed my interest and she had referred me to music studies. My path has been a path of many other guys. I studied solfeggio, harmony, piano and
I sang in the choir, then as I matured I began to love opera. Let'say that actually, my first encounter with the opera was as a child on the occasion of the television broadcast of Ernani by Giuseppe Verdi and the great Capuccilli in the role of Carlo V. I remember that I was really impressed by the voice of this wonderful Italian singer. Later I started listening also other Italian baritones like Tita Ruffo, Ettore Bastianini, Tito Gobbi, but at the time there was no internet and listening to these voices was not easy and immediate as today, thanks to internet and youtube. Let's also say that for my baritone voice the Italian belcanto school had become my reference point during my studies, because in Bulgaria the most famous singers were mainly sopranos and basses. Then I met my teacher, the great Bulgarian bass Nikola Ghiuselev with whom I improved and with whom I shared a very important part of my professional and personal life.
You told in an interview that your voice teacher, the great Nicola Ghiuselev, has told you "Vladimir, you must remember that a career must measured not in its highness but in it's length". Now that you are in your artistic maturity, what do you think will be the development of your artistic growing?
It is true that my teacher just told me this and I followed his advice. I'm on stage for more than twenty years and I can say that I am satisfied with the results obtained so far. The artistic maturity of an opera singer in my opinion is the result of a continuous research on the score, on the vocal technique and on the study of the characters and it grows day by day. You should never feel like: "ok, I'm arrived" because there is always something new to learn and to discover. I never counted the number of performances in which I played a character, what interests me is to seek maximum adherence to what is written and indicated on the score by the composer. Each performance is unique and unrepeatable. Also in the future I want to continue in this direction.

Vladimir Stoyanov. Foto: Agentur
You have a special connection with Verdi, you are recognized interpreter of some of the most important Verdi's roles. Also you have been granted in 2019 with the title of Verdi's Knight in Parma: what did you understand of Verdi as a man?
Verdi was able to transfer all the emotions of the human being into the music, because he firstly experienced them. Giuseppe Verdi is an absolute and indisputable genius! I understood that he was a man inclined to justice, very critical of himself and of others, but profoundly righteous. I got to visit his native places and the places where he lived and I understood that he loved healthy life, good food, good wine and that he was very attached to his peasant origins. You can understand a lot about Verdi by reading his letters and I advise anyone interested to deepen his human and artistic figure to let himself be guided up by these historical writings. I am very proud to have been conferred on the order of Knights of such a unique and inimitable musician and man.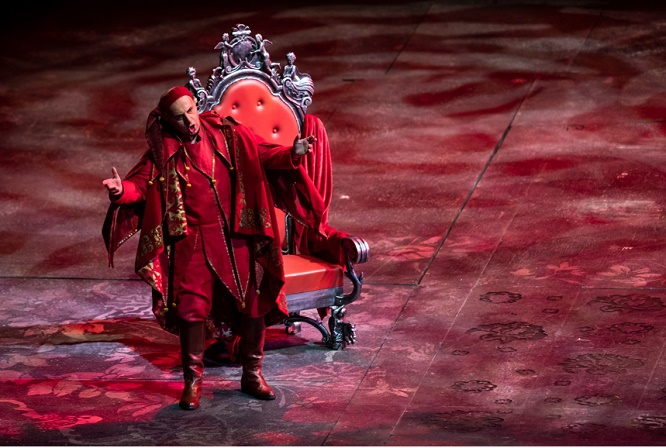 Vladimir Stoyanov als Rigoletto. Foto: Mikel MiguelLorenzo/ Palau de les Arts Raina Sofia/Valencia

You recently achieved a great success as Rigoletto in Bregenz, and now you are rehearsing as Conte di Luna in Il Trovatore at the LA Opera: different characters, a father and a man violently in love. What is your connection with these completely different characters?
I always try to deeply understand the character in order to be able to interpret in the best possible way. Rigoletto is, as you have already said, an obsessive father who wants to exercise power over his daughter and believes he has power over others. The Count of Luna is a man of power who uses power for his own purposes, I would not call him a "man in love" but rather a man eager to possess what he craves. Both are losers due to lack of scruple and morality and they both pay the price for that.
This Trovatore represents the reopening of the LA Opera after the closure due to the pandemic. What are the emotions of being part of this production and in these days of rehearsals?
First of all it is a great thrill for me to debut at the L. A. Opera, this theater full of charm and history. For us artists, getting on the stage is a part of life, so for me it means coming back to life! We're working really good, the staff is very professional and helpful. Working with a conductor of the calibre of Maestro James Conlon is exciting and inspiring. I am really happy to have this opportunity and to be part of this magnificent production which opens the season 2021-2022 in L.A. after the long silence forced by pandemic. I'm sure that this opening will be a moving moment both for us on stage and for the audience in the hall.
In these difficult times the Opera world is reflecting about its future perspectives: how do you see the future of the art and what are your next objectives?
About my future objectives, I hope soon to be able to debut two great characters that I have not yet had the opportunity to play: Simon Boccanegra and Amonasro. As for the future of the opera, I am optimistic in the sense that I see great interest from the audience. People missed the theater so much during loockdown. I have daily confirmation of it also from the messages and emails I get from my fans and friends. I'll give you an example: this summer, in Bregenz, Rigoletto was sold out every evening, with 7000 spectators for more than twenty performances! I hope governments invest more in music culture. It is a pity that music has been relegated to a second role in the school teaching, giving priority to scientific subjects. The risk, in my opinion, is that young people no longer approach the opera and in this way they lose a wonderful opportunity for knowledge and human growth.
Mit Vladimir Stoyanov sprach Frank Herbert im Septemer 2021 in Los Angeles