Vienna/ Musikverein. "Who will dance with me?" New Year's Concert 2023 – Wiener Philharmoniker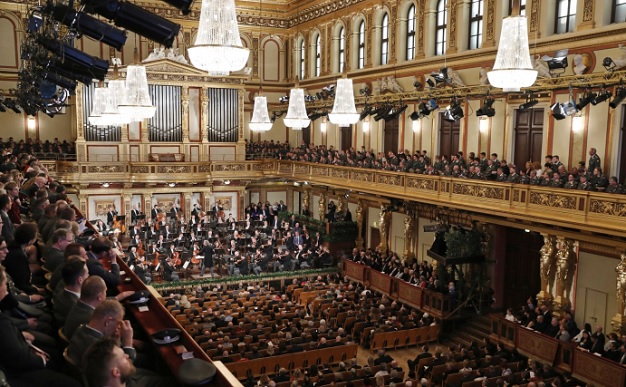 Foto: Wiener Philharmoniker/ Dieter Nagl
 The Maestro Franz Welser-Möst , while setting the rhythm with his bar, asked "Ver tanzt myth?" spreading around a cheerful and optimistic mood. And this was just a preview of the beauty that filled the hall during the Christmas morning.
The subtle sounds of "Heldengedichte" painted a vision of the inspired poet, his dreams, desires, expressed emotions that enveloped us and took us with them into the world of his dreams to whirl.
This convention was broken bythe"Zigeunerbaron-Quadrille", which evoked memories and the thought of cakes decorating the shop windows in Vienna about beautiful pink piglets with the Prosit Neujahr wishes. Enjoy your meal. That's how tasty that piece of the New Year's concert was.
After this little bit of sweetness, the maestro revealed the secret of "Ziehrer In lauschiger Nacht" ,breathing into us an uplifting mood , elegance, love, subtlety, hugging.
"Wonderful" sounded next to me after the notes of"Frisch heran!" faded away. Wonderful freshness of the programme of this year's concert.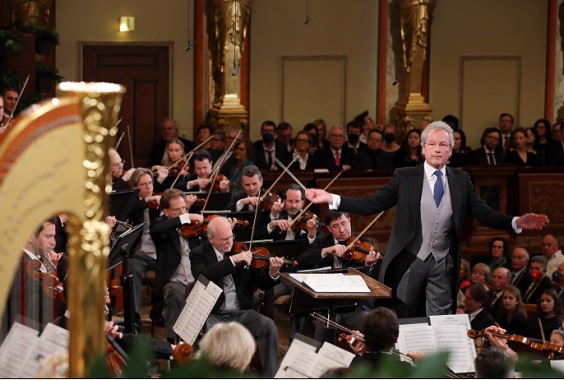 Foto: Wiener Philharmoniker/ Dieter Nagl
In thesecond part of the concert, the maestro scattered the pearls oflove ("Perlen der Liebe") around the hall , made us uplift tothe heights of ouremotionsand happiness of being in this place, to therhythm of castanets from theOuvertüre zur Operette "Isabella" we followed theideaof the composer taking a pleasure to meet Isabelle, who is rarely seen in opera houses.
Unusualdepth was heard in this concert, in the selection of pieces, in conducting the orchestra, it gave food for thought, triggered reflections, touched us to the core, gave the opportunity to sink into the music, as in the most beautiful sea in the world.
The experience was complemented by the opportunity to listen live to children's choirs singing in seafarer's clothes from the organ gallery, when the children immediately attracted attention, triggered great enthusiasm andwith great openness were welcom. It was the most sublime moment of the concert. A profound respect and appreciation among the audience. And a great joy.
With great fantasy ("Allegro fantastique") ,WienerPhilharmoniker under the baton of the outstanding Franz Welser-Möst painted a musical watercolour "Aquarellen" in our souls, hearts, minds, painting that will stay in the gallery of our memories from participation in New Year's concerts in Vienna, in opera performances, concerts and will certainly be a pearl at the vernissages of memories during meetings with lovers of classical music.
Iwona Karpińska
Wrocław