Poland, Teatr Wielki in Poznan: Madame "Carmen".
5th of March 2017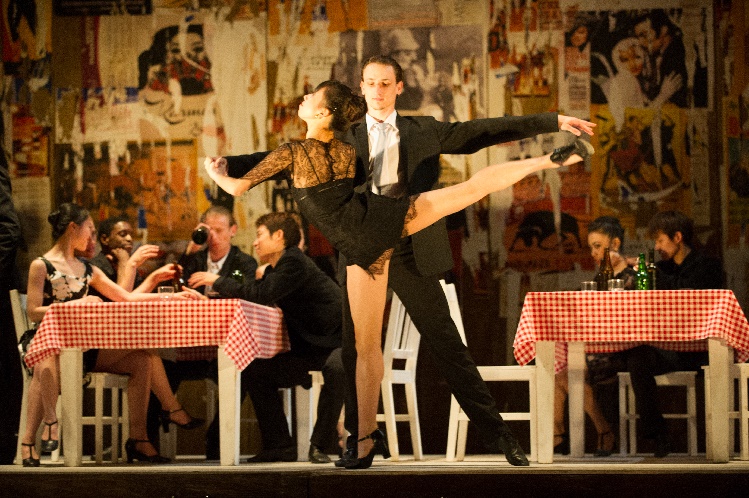 Copyright: K. Zalewska
Opera is an excellent opportunity to meet interesting people who truly enrich one's life. During the Sunday's show I was accompanied by someone who has recently visited the place where Georges Bizet set his work.  But the composer didn't visit the Royal Cigars Factory in Seville, which had its own police, court and prison – it was all there and under control – as we all know Bizet used his imagination.
Those buildings, so full of history, nowadays house the Vice-Chancellor's office and several faculties of the University of Seville, but let us get back to the beautiful music that flowed that night from the orchestra pit. The music was the true hero of the day, I had never before heard the orchestra of Teatr Wielki in Poznan playing so phenomenally in any of "Carmen" performances. 
Why do I like this particular "Carmen" so much?  Because the director Denis Krief used many symbols and models to tell the dramatic story while leaving the audience a space to place it in any time and place.
And that is why a live butterfly that appeared that evening on stage during the romantic conversation between Don Jose (Piot Friebe) and Micaela (Monika Mych Nowicka) only added colour and new meaning.
Bassem Akiki who conducted  "Carmen" had conducted "Madame Butterfly" in Brussels a few days before, where (according to the concept of the director), the main character had been a lifeless puppet controlled by masked beings from the shadows – but we could all see that Madame Butterfly lived on stage in Poznan, especially when the butterfly so beautifully landed on Micaela's head.
And it was a great – symbolic if accidental – link between these two works.
The choir absolutely deserves a mention as it also shone that evening, as did the boys' choir with their "Nous marchons la tête haute comme de petits soldats, marquant sans faire de faute, une, deux, marquant le pas", and of course Escamillo (Krzysztof Szumański) promising  "Si tu m'aimes, Carmen, tu pourras, tout à l'heure, être fière de moi."
Malgorzata Pańko – Carmen – was the red flower, with the conductor's baton thrust straight into her heart by his precise performance of the score.
If one is to return – one should return to Poznan. For "Carmen".
Iwona Karpińska
Wrocław