SI OP Rosenkavalier Staatsoper Muenchen 21.3.21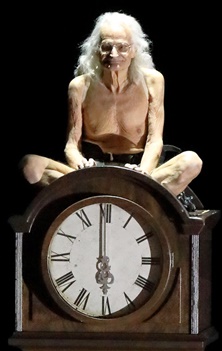 Copyright: Bayerische Staatsoper/ Wilfried Hösl
"Der Rosenkavalier", new production at Bayrische Staatsoper. Director: Barrie Kosky.
Was online streamed on Sunday, 21st of March.
Judgment: First of all, congratulations to the singers, beautiful voices. But this is the only positive one can say about this production.
It is awful, ugly, primitive, stupid, a deliberate rape of one of the most beautiful Operas. Instead of leading us into the stunning realm of Eros Barrie Kosky leads us into the despicable dungeon of pornography.
Nothing is right, not the play, not the styling of the characters, not the stage set, not the dresses, nothing, nothing, nothing! Seldom you can say that about a production.
BK who defines himself as "gay Jewish kangaroo" is in his mind as ugly as he looks like, he is a cultural Marxist and Nihilist of the worst kind. A megalomaniac destroyer of culture, this production is to borrow a phrase from Egon Friedell a pale, sly vampire attack on one of the greatest works. What a pigsty todays Germany is.
And one word to the useless person introducing the Opera content that the set plays in Vienna of the year 1740. No, you ignorant nothing, it plays in the first years of the reign of Empress Maria Theresia after the peace treaty of Aachen 1748, a fair guess would be around 1750. Why? The Ochs tells us that Faninal became rich due to army deliveries to today's Belgium, then the Austrian Netherlands so this was the time of the war of the Austrian succession. And the Field Marshal of Werdenberg is not in the field commanding an army but on his hunt down in Croatia. Another strong hint that it is a time of peace.
I pity the singers who suffered under his direction.
And one more: To be Jewish alone is not making the evening! As Karl Kraus – great Austrian critic and himself of Jewish descent – said: "Kick the scoundrel out of town"!
SITTOPERA (TM) revenge will be: We produce the "Rosenkavalier" 2022 at the Rand Club in old fashioned classic style! www.sittopera.co.za