Foto: Iwona Jarzyna
Katowice. The Polish National Radio Symphony Orchestra. A voyage on the sea of love. Film music. 16.02.2020
On a Sunday evening, steering the right course under the baton of Bassem Akiki, the National Symphony Orchestra of the Polish Radio in Katowice set sail for a voyage on the sea of love.
The waltz from the film "The Leper," composed by Wojciech Kilar, put guests in the concert hall in a joyful mood to celebrate these wonderful emotions, abundant among music lovers.
The protagonists summoned by the announcers – Klaudia Baranowska and  Piotr Matwiejczuk – whirled around, just like the audience's dreams, memories, and the joy of getting the tickets, which had been sold out in an instant.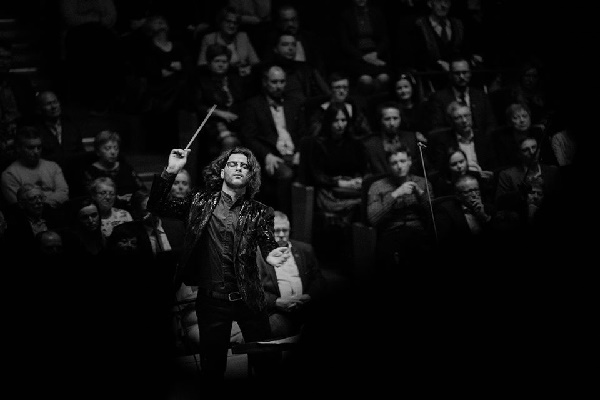 Bassem Akiki. Foto: Iwona Jarzyna
On the calm waves of extremely positive emotions, evoked and watched over by Maestro Bassem Akiki, who created the perfect waves with his gestures and indicated the right rhythm with his baton, we sailed into the wide waters of the ocean of waltzes and beautiful melodies.
The commanding prowess was noticeable at every change of the mood of the composition, when the conductor gave it an individual meaning.
The tango from the film "Jealousy and Medicine" added even more flavour, bringing together and calming down the vast depths of multicoloured waters of love.  We listened to suites from the films: "Star Wars," "The Promised Land," "Nights and Days," "Out of Africa," "Gone with the Wind," "Pearl Harbor," "Forrest Gump," and "Snow White and the Seven Dwarfs," who can be found in Wroclaw 🙂  and "My Heart Will Go On"  from "Titanic".
The event was characterised by subtlety, romanticism of the moment and a reminiscence of important events.
The sound waves of the perfectly harmonised National Polish Radio Orchestra and the ovation of the cheerful audience ensured a safe arrival at the music port under the Polish and Lebanese flag, and the dignity of that moment was underscored by the traditional Polish polonaise from the film "Pan Tadeusz."
Iwona Karpińska/ Wrocław

Foto: Iwona Jarzyna