SI OP DNM Spring Concert  Johannesburg Opera  17.September 2023
Die Randlord Villa ist 1,5 km nördlich vom Stadtzentrum in Johannesburg entfernt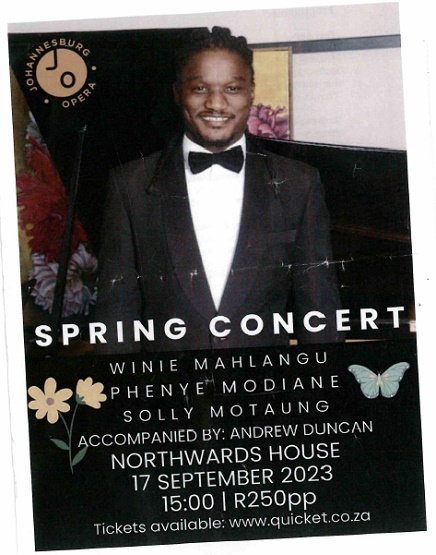 SPRING CONCERT  OF JOHANNESBURG OPERA –  A FINE SOUNDING BREEZE OF MUSICAL AIR
 Gauteng houses two small, but very fine Opera  companies, SITTOPERA ™  run by yours truly  and JOHANNESBURG OPERA run by the very sympathetic and fine tenor Phenye Modiane. We do not consider ourselves competitors but 'partners in crime "  in  promoting classical and opera music. Gauteng province , the vibrant economic powerhouse of South Africa with about 15 million inhabitants is big enough for both of us.
Phenye Modiane had combined a very fine programme with all kind of "Lekkerbissen', earwigs and popular melodies from the world of opera, operetta and musical with only Richard Wagner missing. But you cannot have everything… The concert was set in the "Randlord"noble villa 'Northwards House'; an architectonic noble frame for noble music.  The programme went from Gaitano Donizetti's "L'elisir d'amore"to the grand French Opera –  Jules Massenet's "El Cid' and Charles Gounod's "Romeo et Juliette" to Giacomo Puccini's "La Boheme", W A Mozart's "Magic flute"and  Guiseppe Verdi's "Il Lombardi'- excellent idea to revert to this wonderful opera, unfortunately not very often performed . That was the First act.
In the Second Act it was Giacomo Puccini's "La Boheme'again , Mozart's "Nozze di Figaro", Johann Strauss "Die Fledermaus", Franz Lehar's "Land des Laechelns", Lehar's "Lustige Witwe" , Leonard Bernstein's "Westside Story'and  Andrew Webber's "Phantom of the Opera".
Phenye Modiane did sing himself – in opposition to  Yours truly his voice is recommendable –  and was supported by the soprano Winie Mahlangu and the baritone Solly Motaung. All three singers had been very well disposed off, Phenye impressed specifically with a gloriously kitschy "Dein ist mein ganzes Herz" – you only can do this aria with a courageous kitschy heart – Winie  did sing "Mein Herr Marquis' like being born in Vienna and Solly impressed specifically with "Figaro's Se vuol ballare". The concert was well booked, especially if considering that they competed with a rugby match, the South African springboks  against Romania which was  ruthlessly destroyed 76:0.  Andrew Duncan was a very professional and fine accompanist on the piano.  So it was an excellent Sunday for rugby and JOHANNESBURG opera who shall be thanked for their courage and excellent work for opera. The audience was in best mood and did not miserly with applause. Standing ovation; rightfully given. A very pleasing Sunday afternoon!
And on the 29th of October it goes on with an Opera and art-song Matinee. Ticket already booked!
Harald Sitta
FRUEHLINGSKONZERT DER JOHANNESBURG OPERA – EINE FEINKLINGENDE BRISE MUSIKALISCHER AIR
Die suedafrikanische Provinz Gauteng beheimatet zwei  kleine, aber sehr feine Opernkompanien, SITTOPERA ™ , die vom Endesgefertigten gefuehrt wird und JOHANNESBURG OPERA, die vom sehr sympatischen und  sehr guten Tenor Phenye Modiane geleitet wird.  Wir betrachten uns wechselseitig  nicht als Konkurrenten sondern als "Partner im Verbrechen" in der Bewerbung klassischer und Opernmusik. Die Provinz Gauteng, die wirtschaftliche Kraftkammer Suedafrikas mit 15 Millionen Einwohnern ist gross genug fuer uns Beide.
Phenye Modiane hat ein sehr edles Programm zusammengestellt mit allen Arten von "Leckerbissen", Ohrwuermern  und beliebten Melodien aus Oper, Operette und Musical. Nur Richard Wagner fehlte aber man kann nicht alles haben. … Das Konzert fand in der prunkvollen, "Randlord" Villa 'Northwards House "statt; ein architektonisch edler Rahmen fuer edle Musik.  'Das Program begann mit Gaitano Donizetti's "Liebestrank" und ging zur grossen franzoesischen Oper – Jules Massennet's  "El Cid"  und Charles Gounod's "Romeo und Julia", , zu Giacomo Puccini's "La Boheme", W A Mozart's "Zauberfloete" und Guiseppe Verdi's "Die Lombarden"- eine exzellente Idee sich dieser viel zu selten gespielten Oper zuzuwenden . Dieses war der erste Streich und der zweite folgte sogleich nach einer Pause.
Im zweiten Teil  wiederum Giacomo Puccini's "La Boheme", Mozart's "Hochzeit des Figaro", Johann Strauss "Die Fledermaus", Franz Lehar's "Land des Laechelns"  und "Die lustige Witwe" , Leonhard Bernstein's "West Side Story" und Andrew Webbers "Phantom der Oper".
Phenye Modiane sang selbst – im Gegensatz zum Endesgefertigten ist seine Stimme wirklich empfehlenswert – und wurde von der Sopranistin Winie Mahlangu und dem Bariton Solly Motaung unterstuetzt. Alle drei Saenger waren glaenzed disponiert. Phenye beeindruckte besonders mit einem glorios kitschigem "Dein ist mein ganzes Herz" – diese Arie kann man nur mit einem mutigem, kitschigen Herz singen – Winie sang "Mein Herr Marquis"als waere sie in Wien geboren worden und Solly beeindruckte besonders mit Figaro's "Will der Herr Graf ein Taenzchen wagen .." .Das Konzert war gut besucht, insbesondere wenn man bedenkt, dasz es mit dem Rugbymatch der suedafrikanischen Springboks gegen Rumaenien kollidierte bei dem die Springboks die rumaenische Mannschaft gnadenlos mit 76: 0 abfertigten. Andrew Duncan war ein sehr professioneller und einfuehlsamer Begleiter  auf dem Piano. Es war ein wundervoller Sonntag fuer Rugby und JOHANNESBURG OPERA , die fuer ihre mutige und erstklassige Arbeit fuer die Oper bestens verdankt sein moegen. Das Publikum war in bester Stimmung und geizte nicht mit Applaus. Stehende Ovation, zu Recht! Ein wohl verbrachter Sonntag Nachmittag!
Und am 29.Oktober geht es weiter mit einer Opern und Liedermatinee .Ticket schon gebucht !