JELENIA GÓRA (Hirschberg im Riesengebirge/Polen): Lower Silesian Philharmonic: Conversation with a cello.
10.01.20 Jelenia Góra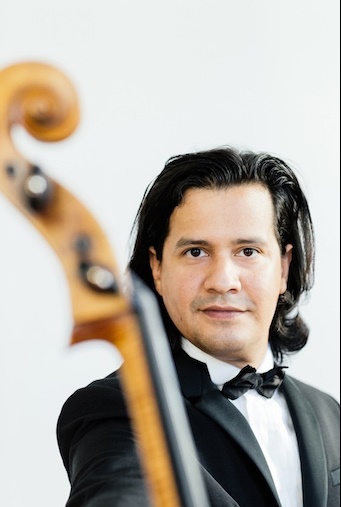 Claudio Bohórquez
When you have your favorite song and suddenly it turns out that you can listen to it live and nothing prevents it from happening, you are immersed with great pleasure in every sound coming from the stage.
Claudio Bohórquez was a guest of the Lower Silesian Philharmonic and to my joy he had a wonderful conversation with his cello in the Cello Concerto in B minor Op. 104 by Antonín Dvořák.
The small chamber concert hall in the mountain climate only added the intimacy to the performance of this piece, the relationship between the artist's talent and the music coming from the instrument was even greater.
He magnetized with his every gesture, fine-tuning every sound while bringing to it his personal character.
Love, passion, subtlety left unforgettable impressions in us, sometimes the moments from this evening come back to us, which means that the concert was performed in a perfect way.
The concert was led by Szymon Makowski from the conductor's music stand, The Lower Silesian Philharmonic Symphony Orchestra was playing, undertaking a great dialogue and bringing character, but the entire piece was led by the cello  showing us what is most important.
Iwona Karpińska /Wrocław