JAROSLAV KŘIČKA'S OPERA COMEDY THE LORD IN WHITE or NO HAUNTS LEFT FOR GHOSTS RETURNS ON THE STAGE AFTER NEARLY 90 YEARS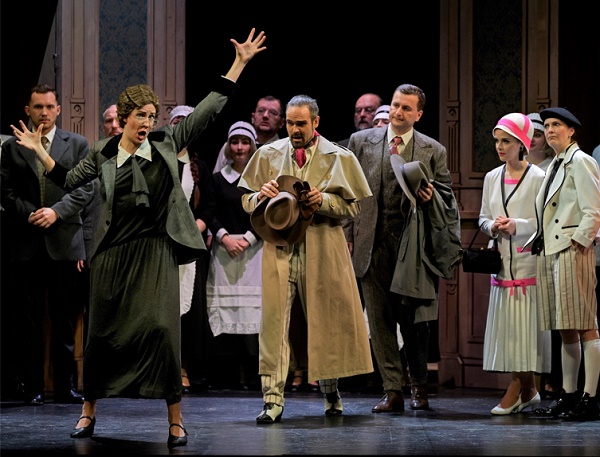 Copyright: Martin Popelar
On 28 and 30 October 2021, Jaroslav Křička's opera The Lord in White or No Haunts Left for Ghosts premiered at the National Moravian-Silesian Theatre, Ostrava, Czech Republic. The stage of the Antonín Dvořák Theatre changed into the Satalice castle that is to be bought by the Hollywood family and where the ghost of count Kazimír resides. An essential part becomes the love story between the current owner count George and young lady Elinor.
The opera comedy was written in 1929 and contains Jan Löwenbach-Budín's libretto that is grounded in Oscar Wilde's short story The Canterville Ghost. However, the opera was adapted by Max Brod in 1930. Brod's version was given in German entitled Spuk im Shloss at the New German Theatre (today's Prague State Opera) in 1932 and in Czech in Ostrava in the same year. The adaptation became popular in several foreign countries as well, unfortunately, the international success was interrupted by the war.
The revived opera was directed by Ondřej Havelka and musically prepared by David Švec. "The work is completely unique and it goes beyond the usual format of opera productions. It is funny, playful, and more like a musical," says the director Ondřej Havelka who has devoted all his professional life to classic jazz, so it is not surprising that the intendant Jiří Nekvasil chose him as a stage director. Despite a few changes in the libretto that Havelka made, a well-done political satire pointing out the unfair system of land registries during the interwar period was retained.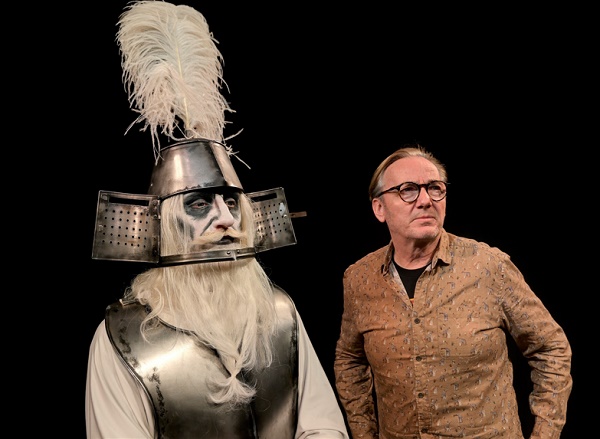 Copyright: Martin Popelar
For the conductor David Švec, who directed and arranged the music, it was an entertaining discovery. "Křička's music contains characteristics of European romantic opera as well as American jazz and boisterous rhythms that interrupt old European conventions." For that reason, a spectator may hear and see long difficult parts combined with cabaret couplets and foreign dances. "The very first fundamental source for our work was a great piano-vocal score from 1931 according to which I recorded the whole opera. Deletions followed to keep the flow of the plot. Nevertheless, a 90-year-old score for orchestra was delivered from Vienna that contained many errors and excluded some parts, indeed. This is why I had to do new instrumentation of the missing parts including hundreds of corrections in the score," says David Švec. Missing were also any audio records of the production, which is the reason why the National Moravian-Silesian Theatre plans to create an audio recording (in Czech) that will be broadcast live most likely around Christmas. 
Times of the First Republic are captured through the costumes by Jana Zbořilová and set design by Martin Černý. Author of tricks is Petr Kasnar, dramaturge Juraj Bajús and chorus master Jurij Galatenko.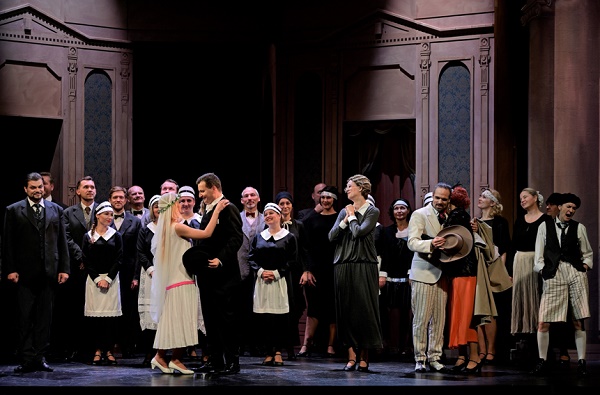 Copyright: Martin Popelar
Cast: American ambassador Mr. Hollywood Martin Gurbaľ / David Nykl; his wife Mrs. Hollywood Jana Horáková Levicová / Jana Hrochová; their daughter Elinor Soňa Godarská / Doubravka Součková; their son Cedrik Markéta Cukrová / Anna Nitrová / Alžběta Vomáčková. Count George is portrayed by Josef Moravec / Juraj Nociar; the ghost of count Kazimír of Satalice Jiří Hájek / Tadeáš Hoza; castellan portrayed by Monika Jägerová / Dominika Škrabalová / Alžběta Vomáčková; maid Andulka Ivana Ambrúsová / Denisa Bílá / Marcela Gurbaľová/; Bob, the American servant Václav Čížek / Daniel Matoušek and many others.
More information you may find on the National Moravian-Silesian Theatre's website and in the theatre's online magazine. There are eleven performances left until the end of the season from which three performances are held in 2021. In February 2022, the production will be staged at the National Theatre in Prague.