POLAND/Grand Theatre – National Opera: "Norma" in Warsaw.
5th February 2017
On Sunday evening the small space in the warm scenery of the Warsaw stage of the Grand Theatre – National Opera witnessed a remarkable show – a concert performance of Vincenzo Bellini's opera "Norma".
Once the overture was played and led us into the atmosphere of the opera we could let go of the reins of our own imagination and indulge in our individual perception of the art.
When the long awaited by the audience soprano: Edita Gruberova – the goddess of singing and interpretation – appeared on stage, a real theatre began, in which one of the main roles was played by – lacking intrigues or betrayals in friendship and love – libretto. 
The first aria, "Casta diva" was only an echo of its performance in Karków last year, but for me it become a link between these two performances. Moments later we experienced the potential with which this extraordinary lady of opera stage can still surprise us, no doubt dazzling in the duets not only thanks to her elegant dresses.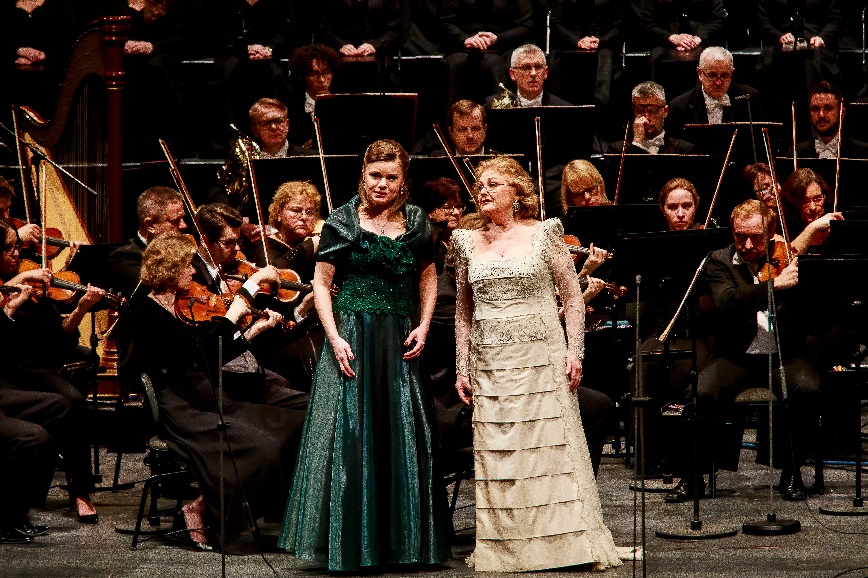 Agnieszka Rehlis, Edita Gruberova. Krzysztof Bieliński
Experience and youth were balanced in a duet created by Edita Gruberova and Agnieszka Rehlis, it was a really emotional conversation at the highest level between two women unhappily in love, listened to by the audience with bated breath and deservedly rewarded with a loud applause for both ladies. And these two ladies were the dominant force of the evening, for which the background – a warm, charming and extremely handsome background with a stunning voice – was provided by Arnold Rutkowski.
The character he created appeared to be a delicate, sensitive, romantic man, one to fall in love with, so no wonder that he managed to seduced the hearts of the audience too.
We automatically followed the libretto, displayed in surtitles acting (for me at least) as a direction for the concert performance of Bellini's work, while not losing the sight of the heroes of the evening for even one moment. Everything was coherent, magnetic and mystical, and the enthusiastic audience wonderfully entered into the spirit of the night.
The concert "under the mistletoe and full moon" was conducted by Maestro Andriy Yurkevich, who remained in excellent rapport with the artists, the orchestra and the choir and demonstrated the beauty and the apparent melodic simplicity of the work, which includes the most difficult soprano part, one I think written for the goddess of love for this profession – Edita Gruberova.
It was, after a long break, a very enjoyable stay in Warsaw. Everything on this day boiled down to "Norma".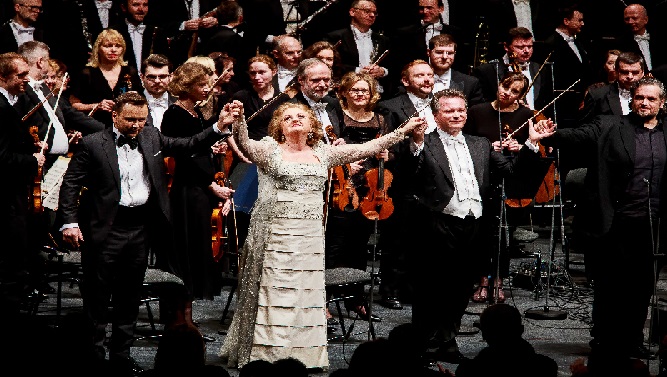 Arnold Rutkowski, Edita Gruberova, Andriy Yurkevich, Renato Zanelatto. Copyright: Krzysztof Bieliński
Iwona Karpińska/ Wrocław/Poland