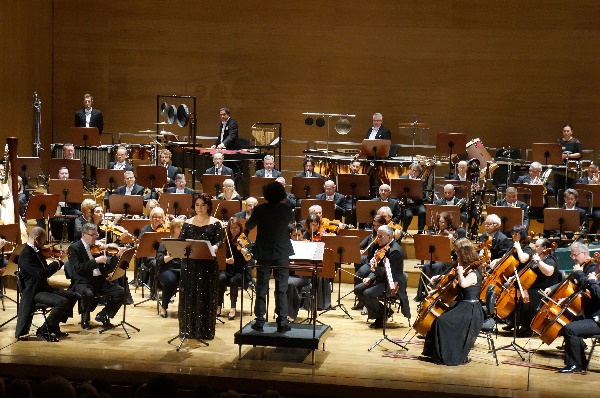 Bassem Akiki, Subcarpathian Philharmonic. Copyright: Subcarpathian Philharmonic
Poland. Subcarpathian Philharmonic: Five miniatures.
 When the break ended on Friday evening, Bassem Akiki appeared on the stage, a miniature piece for a large orchestra under his direction was heard. Our five thoughts developing along with the music, suddenly interrupted by the silence of breaks between the pieces, triggered our hunger.  There was a great desire to hear "Five miniatures" for Artur Malawski's piano in an arrangement for orchestra of Piotr Moss performed in a sequence one after the other, to further emphasise the individual character of each of them and to create consistency in listening, producing a new value. A very interesting composition performed by the symphony orchestra of Subcarpathian Philharmonic.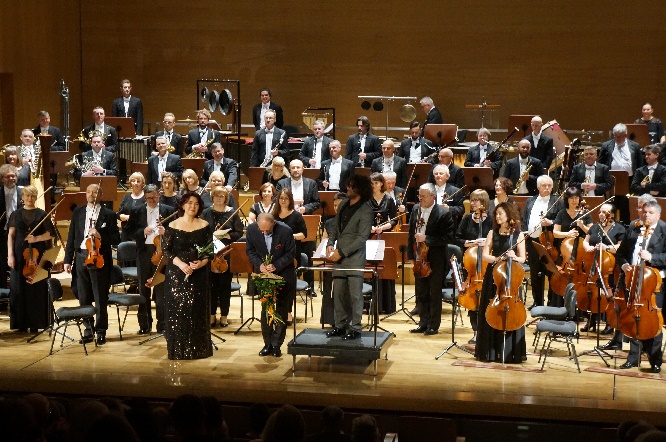 Ewa Wolak, Bassem Akiki, Subcarpathian Philharmonic. Copyright: Subcarpathian Philharmonic
After such an awakened appetite, after presenting to the Rzeszów audience in the first part of the concert the piece entitled "Four ancient monologues" by Piotr Moss for the texts specially written by Antoni Libera and performed by Ewa Wolak in a vivid way with a beautifully sounding alto, with deep purport, drama of the characters' words, which for me was levelled by the composition itself under the baton of this conductor, the entrancing, steady rhythms of Ravel's "Bolero" were heard.
With the soloists who put into their performances individuality, their own emotions, their story, experienced emotions under the baton of the conductor with a southern temperament, we obtained a steady tale and while listening to it there was a great desire to get carried away by the dance, submerging yourself in its rhythm, emotions and beautifully sounding music.
 Iwona Karpińska