INFOS DES TAGES (FREITAG, 8. JÄNNER 2021
DIE WIENER STAATSOPER ZUM TOD VON BISERKA CVEJIC

Biserka Cvejic. Foto: Wikipedia
Die Wiener Staatsoper trauert um ihr langjähriges Ensemblemitglied Biserka Cvejic, die, wie das serbische Fernsehen berichtet, am heutigen Donnerstag, 7. Jänner 2021 im Alter von 97 Jahren in Belgrad verstorben ist.
Im Haus am Ring sang die Mezzosopranistin zwischen 1959 und 1978 an 372 Abenden 26 verschiedene Partien. Sie verkörperte zahlreiche große Rollen ihres Faches, so war sie u. a. als Carmen, als Eboli (Don Carlo), Amneris (Aida), Azucena (Il trovatore), Maddalena (Rigoletto), Ulrica (Un ballo in maschera) oder Preziosilla (La forza del destino) zu erleben.
Internationale Auftritte führten sie u. a. an die Mailänder Scala, das Londoner Royal Opera House und die New Yorker Metropolitan Opera sowie nach St. Petersburg, Moskau, Zagreb und Belgrad.
Nach ihrer Pensionierung widmete sich Biserka Cvejic der Gesangspädagogik. Zu ihren Schülerinnen und Schülern zählten u. a. Starbariton Zeljko Lucic und Staatsopern-Ensemblesängerin Monika Bohinec.
Biserka Cvejic wurde 1979 zur österreichischen Kammersängerin ernannt.
_________________________________________________________________________
WIEN: DER ARCADIA-SHOP IM OPERNGEBÄUDE VERABSCHIEDET SICH VON SEINEN TREUEN KUNDEN UND BEDANKT SICH  !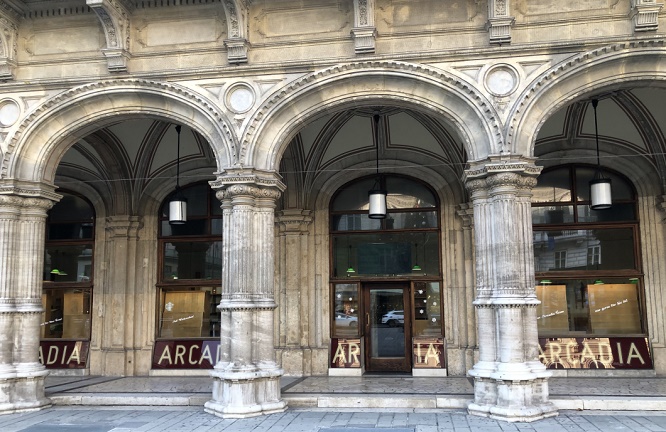 Gespenstisch. Foto: Privat
Für uns heißt es mittlerweile Abschied von unserer geliebten Arcadia und unserer Fotowand nehmen. Die Bilder haben wir Anfang der Woche vorsichtig abgenommen, damit wir sie Clemens Unterreiner für seine Initiative "Hilfstöne" (https://hilfstoene.at) übergeben können.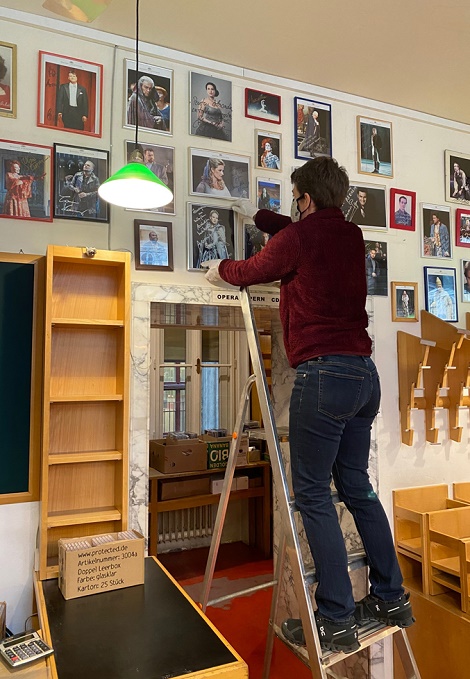 Foto: privat
Über die Hilfstöne sollen die Bilder dann zu gegebener Zeit versteigert werden, worauf ich Sie hiermit gerne hinweisen möchte.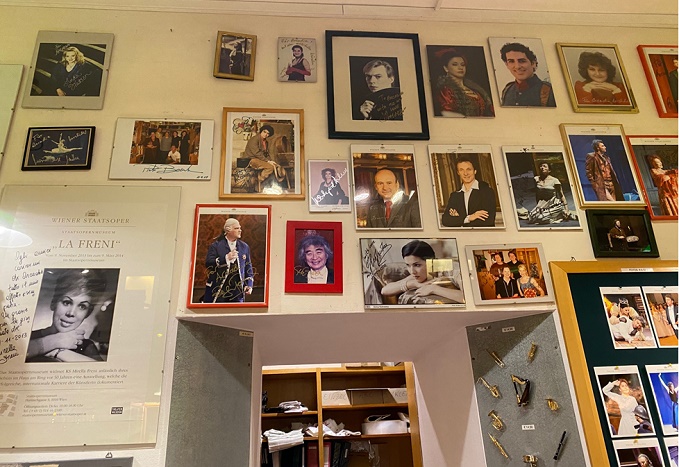 Foto: privat
Zum Abschluss möchten wir uns noch für die jahrzehntelange Zusammenarbeit bedanken!
Brigitte Tautscher
_________________________________________________________________________________
KOMISCHE OPER BERLIN: Veranstaltungs-Höhepunkte und Monatsspielplan
Im Zuge der Verlängerung des Lockdowns wird auch die Komische Oper Berlin weiterhin geschlossen bleiben. Leider kann somit Der Zigeunerbaron in der Regie von Tobias Kratzer am 30. Januar nicht wie geplant und geprobt Premiere feiern.
Ob und in welcher Form der aktive Spielbetrieb im Februar wieder aufgenommen werden kann, ist zum jetzigen Zeitpunkt nicht absehbar. Bis auf Weiteres gilt der veröffentlichte Spielplan.
Außerdem verweisen wir auf unser Online-Programm. Hier haben Sie derzeit noch die Möglichkeit die Produktionen Cendrillon, Lonely House, Les Contes d'Hoffmann und Semele als Stream-on-Demand zu sehen.
Wir schauen trotz allem mit Hoffnung und Zuversicht in das Jahr 2021 und wir freuen uns sehr, dass Sie an unserer Seite sind – auch aus der Ferne.
__________________________________________________________________
DAS MERKER-HEFT JÄNNER 2021 GELANGT ZUM VERSAND!
Das Merker-Heft JÄNNER 2021 wird Mitte Jänner an die Abonnenten verschickt. Werden auch Sie Abonnent und damit Mitglied des Merker- Vereins.
Mehr Informationen
Abobestellungen bitte unter sieglinde.pfabigan@chello.at oder Bestellen
Inhalt des Merker-Hefts

_____________________________________________________________
STREAM-PROGRAMM (kostenlose Streams) der Metropolitan-Opera
Thursday, January 7 (heute bis 24 h online!)
Bellini's I Puritani
Starring Anna Netrebko, Eric Cutler, Franco Vassallo, and John Relyea, conducted by Patrick Summers. From January 6, 2007.
Friday, January 8
Mascagni's Cavalleria Rusticana and Leoncavallo's Pagliacci
Starring Eva-Maria Westbroek, Jane Bunnell, Marcelo Álvarez, George Gagnidze; Patricia Racette, Marcelo Álvarez, George Gagnidze, and Lucas Meachem, conducted by Fabio Luisi. From April 25, 2015.
Saturday, January 9
Donizetti's Maria Stuarda
Starring Elza van den Heever, Joyce DiDonato, Matthew Polenzani, Joshua Hopkins, and Matthew Rose, conducted by Maurizio Benini. From January 19, 2013.
________________________________________________________________________________
INSTAG(K)RAMEREIEN – gefunden von Fritz Krammer
Die Wiener Staatsoper bedankt sich beim Jahr 2020 FÜR NIX!
————-
Günther Groissböck im Aufnahme Studio Wienerlieder Projekt
ZU INSTAGRAM mit Video
________________________________________________________________
Leo Fall: MADAME POMPADOUR – Joseph, ach Joseph
mit Katharina Jing An Gebauer, Stefan Tanzer; Wolfgang Fritzsche (Klavier)
ZUM VIDEO (4 Minuten und 5 Sekunden)
_______________________________________________________________
Music and arts lovers can now purchase 'single tickets' to Seattle Opera streams
 2021 pay-per-stream content includes:
The Elixir of Love, Feb 12-14
Don Giovanni, March 19-21
Flight, April 23-25
Tosca, June 25-27
  SEATTLE—Seattle Opera is introducing "single tickets" to its 2021 streaming productions of Don Giovanni, Flight, and Tosca—plus a bonus reprise of The Elixir of Love. This is the company's first foray into pay-per-view streaming content, which can be enjoyed by opera lovers worldwide. The $35 streams are now available to purchase; each opera will be viewable for three days. (Subscribers can access content earlier, and for a total of three weeks). One-hundred percent of proceeds from individual streaming operas this season will benefit artists, musicians, and crew via union funds, including the AGMA Artists Relief Fund.
Seattle Opera is one of the only American opera companies continuing to create and produce operas it had originally promised for its 2020/21 Season—albeit now in a new, digital format and with strict COVID-19 safety protocols at every step. Seattle-based artists join national and international singers—many of whom were originally scheduled to perform live at McCaw Hall.
"Ceasing to produce opera entirely was not an option" said General Director Christina Scheppelmann. "This time has been extremely challenging. While respecting strict health protocols and rules, we are finding new ways to create art, to employ artists, and to make opera more accessible."
Seattle Opera's pandemic-inspired innovations include the use of new venues as digital recording sites. The opera Flight—which takes place in an airport terminal—will be filmed at The Museum of Flight amongst 39 historic aircrafts in the T.A. Wilson Great Gallery.
 Matt Hayes, museum President and CEO, said the two organizations coming together makes him want to break out into song:
"But I will leave that to the professionals and instead sing praises for this collaboration! Flight is a dynamic reflection of the personal stories we tell and cherish at the Museum, and we are honored to do what we can to help another cultural attraction in our community. Seattle Opera is offering a wonderfully creative re-imagining of the arts. It's an inspired fit for us both."
Available on Seattle Opera's website between April 23–25, Flight includes performances by: Randall Scotting (Refugee), Karen Vuong (Tina), and Sarah Larsen (Stewardess). Maestro Viswa Subbaraman will conduct and Brian Staufenbiel will direct.
But the first streaming opera of 2021 is a reprise of fall's Elixir of Love. Previously only for subscribers, this popular production can be enjoyed February 12–14. Then, a new Don Giovanni created by a women-led team will be available March 19–21. With Maestro Lidiya Yankovskaya, stage director Brenna Corner, and video director Ken Christensen at the helm, audiences will be treated to performances by Daniel Okulitch (Don Giovanni), Vanessa Goikoetxea (Donna Anna), Jasmine Habersham (Zerlina), among others.
The season concludes with Tosca (June 25–27), featuring the poignant aria "Vissi d'arte" starring Karine Babajanyan (Tosca), Robert Watson (Cavaradossi), and Lucio Gallo (Scarpia). Maestro Kazem Abdullah will conduct and Dan Wallace Miller returns to direct. 
As Seattle Opera's digital streams continue to evolve, audiences can once again look forward to hearing the Seattle Symphony Orchestra with every opera.
In addition to purchasing Seattle Opera's pay-per-view streams, the public can enjoy a variety of free content in 2021, including a broadcast of the company's 2005 Ring cycle on Classical KING FM 98.1, featuring some of Seattle's Opera's legendary singers: Jane Eaglen (Brünnhilde) Gordon Hawkins (Donner), Stephanie Blythe (Fricka)—and Greer Grimsley in his debut performance as Wotan.
During the pandemic, Seattle Opera's free recitals have garnered more than 20,000 views from around the world, and more than 150,000 listeners have tuned in to enjoy free KING FM broadcasts. Upcoming free recitals—which can be viewed on Seattle Opera's website and social media—include performances with pianist David McDade and feature soloists Andrew Stenson on Jan. 29, Jasmine Habersham on Feb. 19, and Karen Vuong on May 7.
Another opportunity to enjoy free content will come during the Big Opera Show, the company's virtual fundraising event, at 4 p.m. on Sunday, April 11. Special guests will be announced in early 2021.
Upcoming at Seattle Opera
 Every Saturday, Seattle Opera Mornings on KING FM—Free
Broadcasts of previous Seattle Opera performances offered at 10 a.m. PST on Classical KING FM 98.1 or king.org. Full schedule at seattleopera.org/kingfm
Wednesdays, Jan. 13–March 3, Opera 101 (nearly sold out; a wait list will be available)—$150                          
Class offered weekly online via Zoom for eight weeks. Taught by Alex Minami, Community Engagement Manager. Learn more at seattleopera.org/operaclasses
 Tuesdays, Jan. 12–March 16, Modern History Through the Opera Glass (sold out; wait list available)—$175   
Class offered weekly online via Zoom for eight weeks. Taught by Jonathan Dean, Seattle Opera Dramaturg. Learn more at seattleopera.org/operaclasses
Sundays, Jan. 24–March 14, Opera in the Making: Libretto Writing (sold out; wait list available)—$350   
Class offered weekly online via Zoom weekly for eight weeks. Taught by Jessica Murphy Moo, professional opera librettist. Learn more at seattleopera.org/operaclasses
January–April, Youth Opera Online—$264-$396; financial assistance available
Programming begins January 21, and meets twice a week. Financial assistance is available. Offerings include Artful Explorers for ages 7-9 ($264), Maestros for ages 10-13 ($396), and Advanced for ages 14-18 ($396). Learn more at seattleopera.org/youthonline
Friday, Jan. 29, Andrew Stenson in Recital—Free
An online recital also starring pianist David McDade available on Seattle Opera's Facebook, YouTube, and website Jan. 29–Feb. 19.
Saturday, Feb. 6, Rheingold on KING FM—Free
Enjoy broadcasts of Seattle Opera's 2005 Ring cycle in February at Classical KING FM 98.1 or king.org. Full schedule at seattleopera.org/kingfm
Tuesday, Feb. 9, Die Walküre on KING FM—Free
Enjoy broadcasts of Seattle Opera's 2005 Ring cycle in February at Classical KING FM 98.1 or king.org. Full schedule at seattleopera.org/kingfm
Thursday, Feb. 11, Siegfried on KING FM—Free
Enjoy broadcasts of Seattle Opera's 2005 Ring cycle in February at Classical KING FM 98.1 or king.org. Full schedule at seattleopera.org/kingfm
Saturday, Feb. 13, Götterdämmerung on KING FM—Free
Enjoy broadcasts of Seattle Opera's 2005 Ring cycle in February at Classical KING FM 98.1 or king.org. Full schedule at seattleopera.org/kingfm
Friday, Feb. 19, Jasmine Habersham in Recital—Free
An online recital also starring pianist David McDade available on Seattle Opera's Facebook, YouTube, and website Feb. 19–March 12.
Friday, March 19–Sunday, March 21, Don Giovanni—$35
Maestro Lidiya Yankovskaya and stage director Brenna Corner create a new production of Mozart's classic. Learn more at seattleopera.org/giovanni.
 Saturday, April 23–Sunday, April 25, Flight—$35
Recorded at The Museum of Flight, this Seattle Opera premiere stars Randall Scotting, Karen Vuong, and Margaret Gawrysiak among others. Learn more at seattleopera.org/flight.
Sunday, April 11, Big Opera Show—Free
The company's virtual fundraising event, at 4 p.m. Special guests will be announced in early 2021.
 Friday, May 7, Karen Vuong in Recital—Free
A free, online recital also starring pianist David McDade available on Seattle Opera's Facebook, YouTube, and website May 7–May 28.
Friday, June 25–Sunday, June, 27, Tosca—$35
Maestro Kazem Abdullah and stage director Dan Wallace Miller create a production starring Karine Babajanyan, Robert Watson, and Lucio Gallo. Learn more at seattleopera.org/tosca.
To purchase tickets or learn more about Seattle Opera's offerings, go to seattleopera.org. Seattle Opera's ticket office is open 10:00 AM–2:00 PM, Monday through Friday. (In-person ticket office not currently available). The office can be reached at 206.389.7676 and at tickets@seattleopera.org. 
___________________________________________________________________________
Jetzt offiziell: Statistik Austria: Die Sterblichkeitsrate in Österreich
Freuen können wir uns natürlich nicht darüber, obwohl der Tod zum Leben gehört
Die Statistik Austria ist unbestechlich, wird zwar vom Staat erhalten, ist aber nicht von Subventionen der Politik abhängig. Mit anderen Worten, sie "schummelt" nicht und liefert keine von der Politik bestellten Zahlen.
Nicht einmal eine Woche nach dem Jahreswechsel ist sie öffentlich: Demnach gab es in Österreich keine Steigerung der Todesfälle (2018 waren es sogar noch mehr), keine Rede von den 100 000 Covid-Toten, die von der Politik prognostiziert wurden.
Ich habe Telefonate, die sich zwangsläufig mit der gegenwärtigen Situation beschäftigt haben, immer mit dem Hinweis auf diese Statistik abgewürgt. Wer sich unbedingt fürchten will, soll das ungestört von mir auch tun. In den letzten Monaten bin selbst ich etwas unsicherer und somit leiser geworden – aber die Statistik beweist, dass es keinen Grund dafür gab, wie es eben für vieles im Zusammenhang mit dieser Pandemie keine Gründe gibt.
Was meine Familie, mein allernächstes Umfeld und mich betrifft, könnten die Politiker eigentlich eine Freude haben – kein Eintrag in irgend eine Covid 19 Statistik. Wir sind vorsichtig, aber nicht hysterisch. Vorsichtig bin ich aber auch, wenn ich eine Straße überquere!
Zahlen der Statistik Austria lügen nicht!
______________________________________________________________
ORF III am Freitag: "So ein Theater" aus den Wiener Kammerspielen mit Harald Serafin in zwei Stücken
 "Moral" und "Der Neurosen-Kavalier"
Wien (OTS) – ORF III Kultur und Information startet am Freitag, dem 8. Jänner 2021, um 9.30 Uhr mit "ORF III AKTUELL" und den wichtigsten Nachrichten in den Tag.
Im Hauptabend präsentiert "So ein Theater" zwei von Felix Dvorak inszenierte Theaterstücke aus den Wiener Kammerspielen, bei denen u. a. Harald Serafin für Unterhaltung sorgt. In dem Stück "Moral" (20.15 Uhr) von Ludwig Thoma in einer Aufzeichnung aus 2005 will der wohlhabende Bürger Fritz Beermann (Harald Serafin) zu einem Karrieresprung in seiner politischen Laufbahn ansetzen. Dazu muss er sich aber erst als Präsident einer neuen Einrichtung für die Einhaltung der gesellschaftlichen Moral beweisen. Als bei der Razzia eines "Vergnügungsetablissements" gegen die Besitzerin (Nina Gabriel) Anzeige erstattet wird, stellt man auch das Tagebuch der Dame sicher. Als sich Polizeirat Ströbel (Felix Dvorak) energisch an die Aufklärungsarbeit macht, beginnt bei Beermann das große Zittern, schließlich zählte er selbst zur Kundschaft.
Um 22.10 Uhr folgt "Der Neurosen-Kavalier", eine weitere Komödie von Gunther Beth und Alan Cooper, die 2001 aufgezeichnet wurde. Der Neurosen-Kavalier (Harald Serafin) ist ein gesuchter Ladendieb, der durch Zufall in die verwaiste Ordination eines Psychiaters stolpert und für dessen Vertretung gehalten wird. Durch seinen lockeren Zugang gelingt es ihm, einem Patienten nach dem anderen zu helfen. Schließlich entdeckt er auch für seine eigene Kleptomanie die passende Medizin.
__________________________________________________________________________
WIEN( KABINETTTHEATER
Aufgrund der Verlängerung des Lockdowns und der damit einhergehenden Bestimmungen die Veranstaltungen im Bereich der Kultur betreffend können wir Ihnen zur Zeit nur unseren VORLÄUFIGEN SPIELPLAN vorstellen!
>>VORLÄUFIGER SPIELPLAN 2021
Wir hoffen sehr, dass wir ab 1.2.2021 alle geplanten Vorstellungen werden zeigen können! Wie alle anderen Theater haben auch wir versucht, Produktionen, die für 2020 geplant waren, für die gebaut und geprobt wurde bzw. die kurzfristig abgesagt werden mussten, heuer unterzubringen. Dennoch mussten wir manches auf 2022 verschieben.
Wir können Sie leider nur so kurzfristig, wie die offiziellen Verordnungen zu bzw. über uns kommen, über alle Änderungen in unserem Spielplan unterrichten und hoffen, Sie bald wieder bei uns begrüßen zu dürfen!
Auf ein besseres Jahr, ein Prosit mit Leda, operetta buffa von Alfred Jarry!
_____________________________________________________________________
 ###